[ad_1]

In the intense battle zone of a market that is India, a new winner has appeared. Vivo has now overtaken Samsung as the second largest player in the country.
India is one of the fastest growing and most important smartphone markets in the world, with around 350 million users. This competitive space finally saw the podium change, since Vivo is now the second largest smartphone manufacturer in the country, relegating Samsung to third position. Xiaomi continues to be the market leader with a fairly comfortable lead.
According to Canalys » latest report, Vivo now has a market share of 19.9%, which places it in second place behind Xiaomi with 30.6%. Samsung's share fell to 18.9%. The next spots are occupied by Realme and Oppo.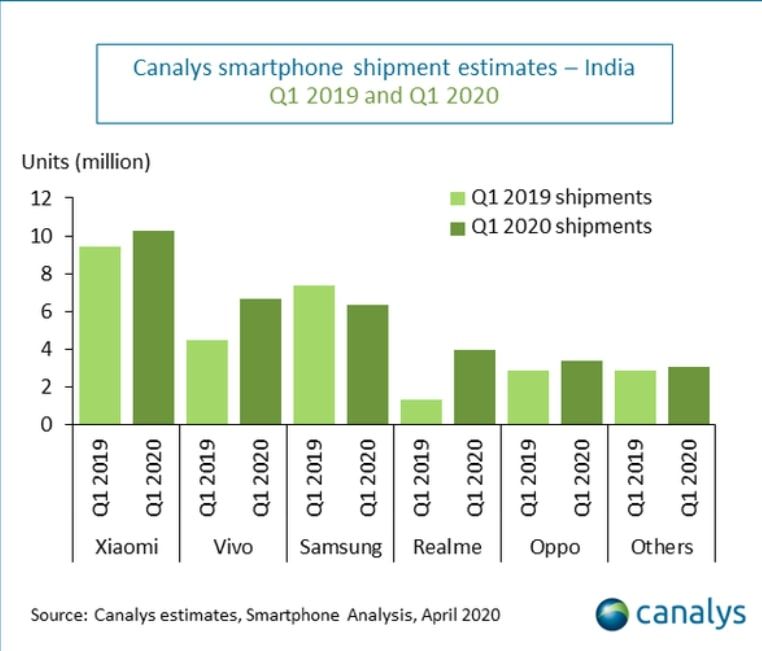 In terms of shipments, Vivo around 6.7 million smartphones were moved in the first quarter of 2020, compared to 4.5 million devices delivered in the first quarter of 2019, which led to growth of 48.9% year on year. In contrast, the Korean giant Samsung managed to ship 6.3 million smartphones in the first quarter of 2020, against 7.3 million units in the same period last year, which led to growth of 13.7% year over year and lost second position to Vivo.
Meanwhile, Xiaomi shipped 10.3 million units in the first quarter of 2020, compared to 9.5 million units in the first quarter of 2019. The biggest change came with True me, posting a huge annual growth of 200%, bringing shipments to 13.9 million units against 1.3 million units in Q1 2019. Finally, Oppo also experienced annual growth of 22.4% with 3, 5 million devices shipped in Q1 2020.
Among the top five smartphone providers mentioned above, Samsung is the only one not to experience positive growth. The other handset increased overall smartphone shipments by 12%. Interestingly, all have their roots in China, now accounting for over 70% of the total Indian market share. Samsung faces many challenges from Xiaomi, Oppo, Vivo and Realme, which offer smartphones with great hardware at an aggressive price. Although Samsung has successfully launched several economical devices under the A series and M series, they just couldn't keep up with the competition.
Shipments of smartphones for the second quarter are expected to be disappointing, as all smartphone sellers (online and offline) have not worked for more than a month due to the national foreclosure of Covid-19 which is expected to last a few more weeks. Once they receive the green signal, manufacturers will strive to meet their annual targets.
[ad_2]