[ad_1]

Even parks and stations are encouraged to use QR codes. Which may show the limits of tracking Bluetooth contacts!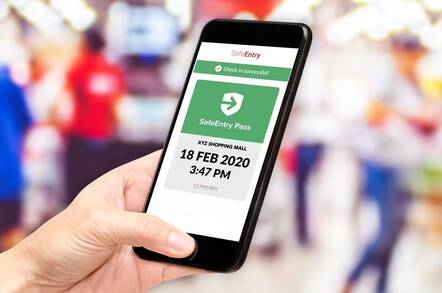 A Singapore government promotion for SafeEntry
Singapore will require from May 12 that all companies adopt a system that registers visitors in and out of their premises using their smartphones, and has already made use of the system mandatory before entering certain locations.
Called "SafeEntry", the system is designed to improve the contact tracing capabilities of the Singapore coronavirus and requires visitors to scan a QR code or scan their phones to register a barcode in the national electronic services application. These analyzes are carried out when visitors enter and leave a room.
Singapore Ministry of Health said the service records names, national identity numbers (or equivalent for long-term residents) and mobile phone numbers, plus the time a user enters and leaves a place.
The resulting data is uploaded to a cloud service where, according to the ministry, it will only be used "by authorized personnel for contact tracing purposes, and strict measures are in place to protect data in accordance with security standards. government data. "
Singapore introduced the service in response as part of its efforts to lift traffic restrictions related to coronaviruses. After initially successfully controlling the spread of the virus, the city-state saw an increase in the number of cases, most of which were in dormitories used to house foreign workers. The increase in the number of cases has brought about a new set of restrictions, called "circuit breaker" measures. Now the national government wants to loosen these restrictions and put Singapore on an almost normal route from June 1. To do this, it tells citizens that it needs SafeEntry to improve contact tracing.
Although SafeEntry is mandatory in all businesses and for those entering public places such as shopping malls, even stations and parks will be encouraged to display bar codes so that visitors can check in and out.
Singapore was one of the first nations adopt a Bluetooth-powered contact search application, fueling many global debates on the best way to deploy technology. SafeEntry will advance this debate because its introduction surely suggests that contact search applications have their limits.
SafeEntry was developed by the same government agency that created TraceTogether. The latter was open source – maybe SafeEntry will be too! ®
Sponsored:
Webcast: Build the Next Generation of Your Business in the Public Cloud
[ad_2]